FLEXIBLE/CELLULAR MANUFACTURING
for Build-to-Order & Mass Customization
Flexible Manufacturing supports Mass Customization and Build-to-Order by enabling the on-demand manufacture of a variety of parts and products.

For fabricated products, all operations can be performed flexibly without setup delays or extra costs. Here are some examples of flexible part manufacture:

Flexible CNC. All CNC machine tools (even the ones you are using in a batch mode)
are capable of fabricating families of parts. Source of image right: Haas Automation of Oxnard, CA:<![if !vml]><![endif]> https://www.haascnc.com/index.html
Three elements enable this flexibility:
1) Standard raw materials that are supplied spontaneously (see below) so that they are always available to avoid procurement delays.
2) CNC programs can be instantly retrieved or generated "on the fly."
3) Setup or workholding delays are eliminated with cellular manufacturing cells (next)
For Electronics Products. These principles also apply to electronics products, since Printed Circuit Boards are also built by CNC machine tools that can place a variety of comments onto versatile "bare boards" (point #1 above) using quickly loaded programs (point #2) onto standard panels or standard material handling rail widths (point #3).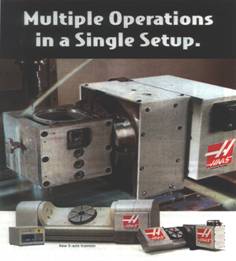 `

Cellular Manufacture
These drawings are all Copyright © 2023
by David M. Anderson.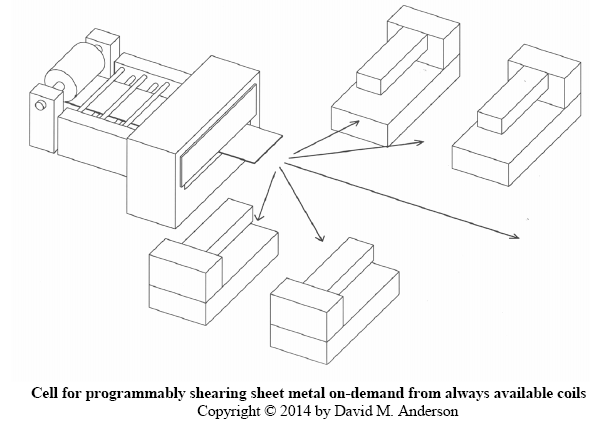 Source Cells for raw materials can cut parts or material "blanks" to-order for fabrication cells or assembly lines.
The illustration shows a source cell for sheet metal. If raw material can be standardized on one gauge, then the standard gauge can be fed from a coil, for substantial raw material cost savings.
This also results in better nesting of part shapes when the long dimension is essentially infinite. Further, this this enables large monolithic parts that can eliminate assembly. For instance, large metal "boxes" can be made from two, three, or fouur sides bent from long blanks, like enclosures for furances and air-conditioners. The most poplar sheet guages may be availagle in wider withs, which may open up even more opportunities.
Source cells can programmable cut on-demand all the shapes of that gauge for the entire factory, and could even become a supplier for other factories who would appreciate fast delivery of low-volume/high-mix blanks at low-cost with no inventory at their shop or their suppliers'. This would help justify the investment for the coil feeder.,

Remnants. If you try to cut large shapes out of 4' x 8' sheets, you will end up with the dilemma of either (a) selling it as scrap for pennies on the dollar or (b) trying to pull out remnants for use in smaller pieces. Go to in the "Remnant Yard" (second section down with automatically scrolling images) at https://bbcsteel.com/steel-yard/


re-cut Inventory. To see what it would be like order all your sheet metal blanked

pre-cut, go to https://esfinc.com/products/sheet-metal-fabrication/ and scroll your mouse down to the lower left image of stacks of many different sheet sizes. Then multiple by, say, 700, stacks to see what client had to deal with! Note that, unless your suppliers ha a feed-fro-a-coil capability, they will have the costly remnant dilemma themselves.

Flexible Cell for Flexible Materials
In this cell, the laser cutter (like the one drawn above at the far right),
is positioned at the output of the coil that dispenses flexible material.

Patterns can be nested efficiently while still on the coil however far away it is.
This nesting is much more efficient than trying to fit patterns onto pre-cut sheets,
which has waste along the edges, especially for big pieces.

Further, flexible (and even slippery) material) can be presented at the last work
area in a known location than can enable CNC operations or or automated handling.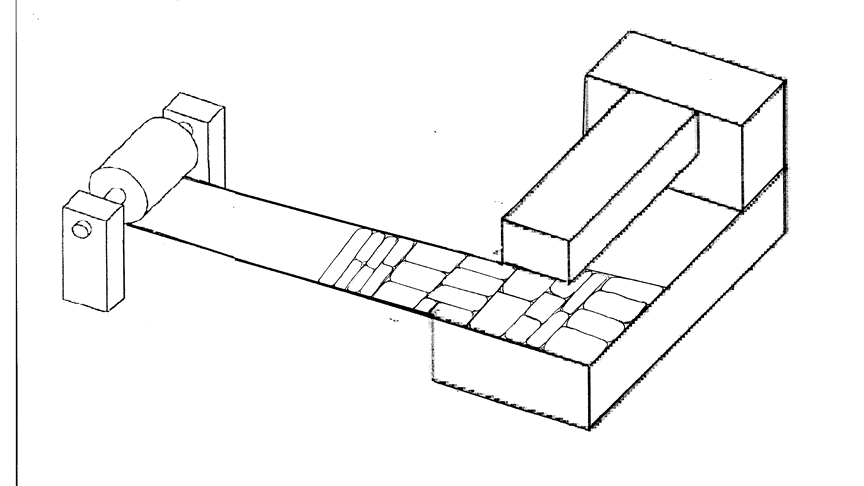 Multiple Coil Source Cell.
The next illustration shows multiple coil or reel feeders that
can feed either of two (or more) standard materials on-demand, without any setup delays, to multiple work stations in series,
in this case work stations "A," "B," and "C,"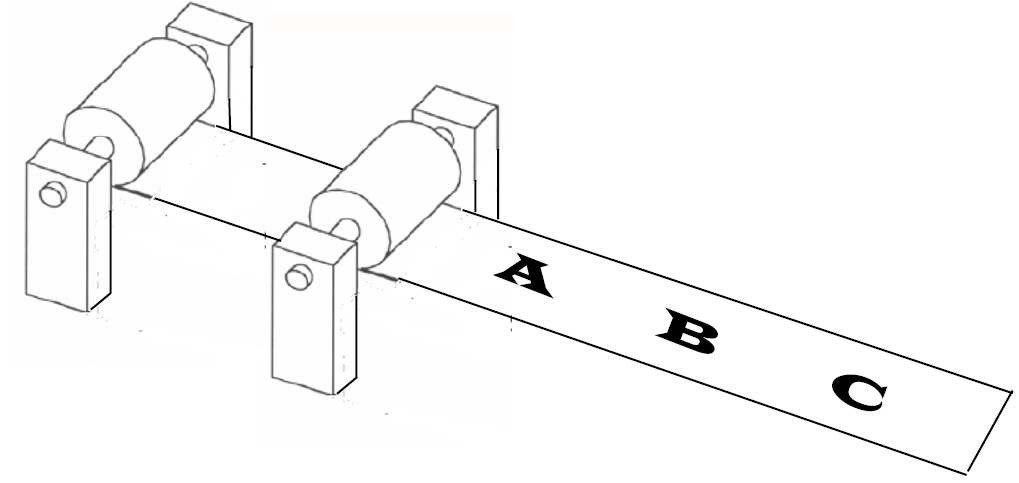 Flexible Fixtures
Flexible fixtures that are versatile enough to accept all stock (or parts) in the cell. Several flexible fixtures could be permanently mounted on a machine tool bed. This example accepts three families of rectangular parts and one family of cylindrical parts. Parts are dimensions with GD&T with all "X" direction dimensions referenced to the horizontal "X bar" and all the "Y" dimensions referenced to the "Y bar, that is affixed to he machine tool bed. The "Z" dimensions are referenced to the machine tool bed surface.

• flexible or specialized fixtures could also be affixed to pairs of "pallets" that can be loaded and clamped down off-line and then swapped into a standard position on a machine tool bed. For multiple sub-groups in the family, there could be a unique pair of fixtures for each sub-group.
These drawings are all Copyright © 2021 by David M. Anderson.
Flexible Cell for Lathe Parts (including All Parts for Families of Motors)
Flexible Cell for On-Demand Fabrication cell for axi-symmetrical parts, for instance, for pistons, motors, and products with rotating parts. etc (see illustration below).

One family criteria would to base the input bar stock on standard shaft diameter and material bar stock, which may result in some products getting a "better" material than they need, but the value of the model would result in a net lower total cost. The ends of shafts would be turned down to each product's dimensions, which could be pre-determined for a standard size (Build-to-Order) or custom dimension for Mass Customized specials. If the machine tool was a CNC Machining Center (as shown in the top photo), it could also add a wide range of flats, keyways, grooves, and other features. Custom features could be machined in flexible fixtures as shown above..


The bar stock may have automatic feeders and be long enough to minimizing bar changing and remnant waste, which can also be automated. Thus, the cell could build any shaft in the family on-demand
and without any inventory or setup delays or costs.


End Caps. Castings need an expensive tool for every shape, plus lengthy setups and inventory for each batch. Build-to-Order principles would use one versatile standard end cap which could be designed for each family that would include all the cast features (whether used or not). Custom features could be machined in flexible fixtures as shown above. In fact, die cost could be further cut in half if every end cap raw casting could be versatile to be machined into front or back versions. That obeys the DFM guideline that recommends to "eliminate right and left-hand versions."

Any extra shapes in the raw casting or any extra machining would be paid back several times over by cutting in half the die cost, inventory cost, and extra setup costs.

Cylindrical Housings. For sheet metal motor housings, a flexible cell could build housings from a standard sheet thickness and grade with diameter and length fabricated on-demand, like the shafts. For cast housings, similar logic applies to minimize the number of dies to the absolute minimum with the a single versatile raw casting as with end caps for each family, which would be CNC machined for different functionality. Custom features could be machined in flexible fixtures as shown above.

In all cases involving castings, reducing each families casting count to one would allow them to be economically stocked to enable on-demand build-to-order.
Extra Profit Opportunities
(See page 295 of the book, "Build-to-Order and Mass Customization."

Mass-customizers can use their versatile design and manufacturing capabilities to offer new, related, value-added products/services that expand the scope of their markets. These offerings may cost little extra to add, especially if they can be done in existing CNC operations. And yet, they may save customers so much time and money that they would gladly pay the mass customizer for the options, especially if these features are difficult for customers to make.
For instance, one of the author's clients, the Hoffman brand of Pentair (see case study) built a plant in Lexington, Kentucky, which can spontaneously build-to-order a wide variety of standard or mass-customized electrical enclosures. It's high-profit value-added opportunity is to use the very same CNC laser cutters that make the boxes to make the holes and cut-outs that cost their customers much time and money to do on their own.

Spontaneous Supply Chains
Standard parts and materials, mentioned above, can be procured spontaneously without forecasts, inventory, or waiting for ordered parts to arrive, as described at: http://www.build-to-order-consulting.com/supply_chain.htm and delivered "dock to line" so they are always available at all points of use, instead of the common mass-production practice of sending all parts and materials to the Receiving Department where they are "kitted" into a batch for scheduled batch production runs.
The article at: http://www.build-to-order-consulting.com/kanban.htm shows automatic resupply techniques such as kanban, steady flows, min/max, and breadtruck (free stock). Two-bin kanbans can range from pairs of cardboard bins to pairs of truck trainers, where one bin or truck trailer is in use and the other is going back to "the source," which could be a supplier or a manufacturing cell.

Achieve major cost reductions with just a few resources with Backward-Comparable "Drop-in" Replacements, e.g for sub-assemblies like hard-to-build frames and structures This can save a lot of money now replacing hard-to-build, high-skill versions, both on existing products and then become the foundation of new generation product developmentsSee:
https://www.design4manufacturability.com/steel-reduction-workshop.htm
The very first step may be to start with a few hours of the DFM thought-leader to help formulate strategies and implementation planning. See his consulting page: http://design4manufacturability.com/Consulting.htm
Send a summary of this web page to your colleagues and managers:
Subject: Web article summarizes Flexible/Cellular Manufacturing

to: All:

I just found an Executive Overview* that shows how we can use Cellular Manufacturing to Build-to-Order products and parts without inventory.

This article has illustrations that show how we can create:

versatile flexible CNC machine tools to build parts on-demand without setup costs, delays, or inventory.
Cellular "source cells" for example, for sheet parts (top_ or blanks and shafts or tubes (bottom).
flexible fixtures that are so versatile that they can build, on demand, parts or families designed for this, or even build parts for existing products if we do the short-term cost-reduction of replacing them with backward-compatible "drop-in" replacements, as shown by link on the page.

* That article is at www.build-to-order-consulting.com/flex-mfg.htm /
This page presents a compelling case for significant investment providing nothing counter-productive gets in the way. If so, find out how to identify and overcome whatever is Conter-Productive page.
To start an amail discussion on BTO using Cellular manufacture, send phone or email below:F
The author of this article, Dr. David M. Anderson, can be reached at 805-924-0100 or
anderson@build-to-order-consulting.com

He has published dozens of articles that are posted at www.design4manufacturability.com , www.HalfCostProducts.com, and www.build-to-order-consulting.com



Copyright © 2023 by Dr. David M. Anderson, P.E.
Seminars Consulting Credentials Client List Articles Books Site Map